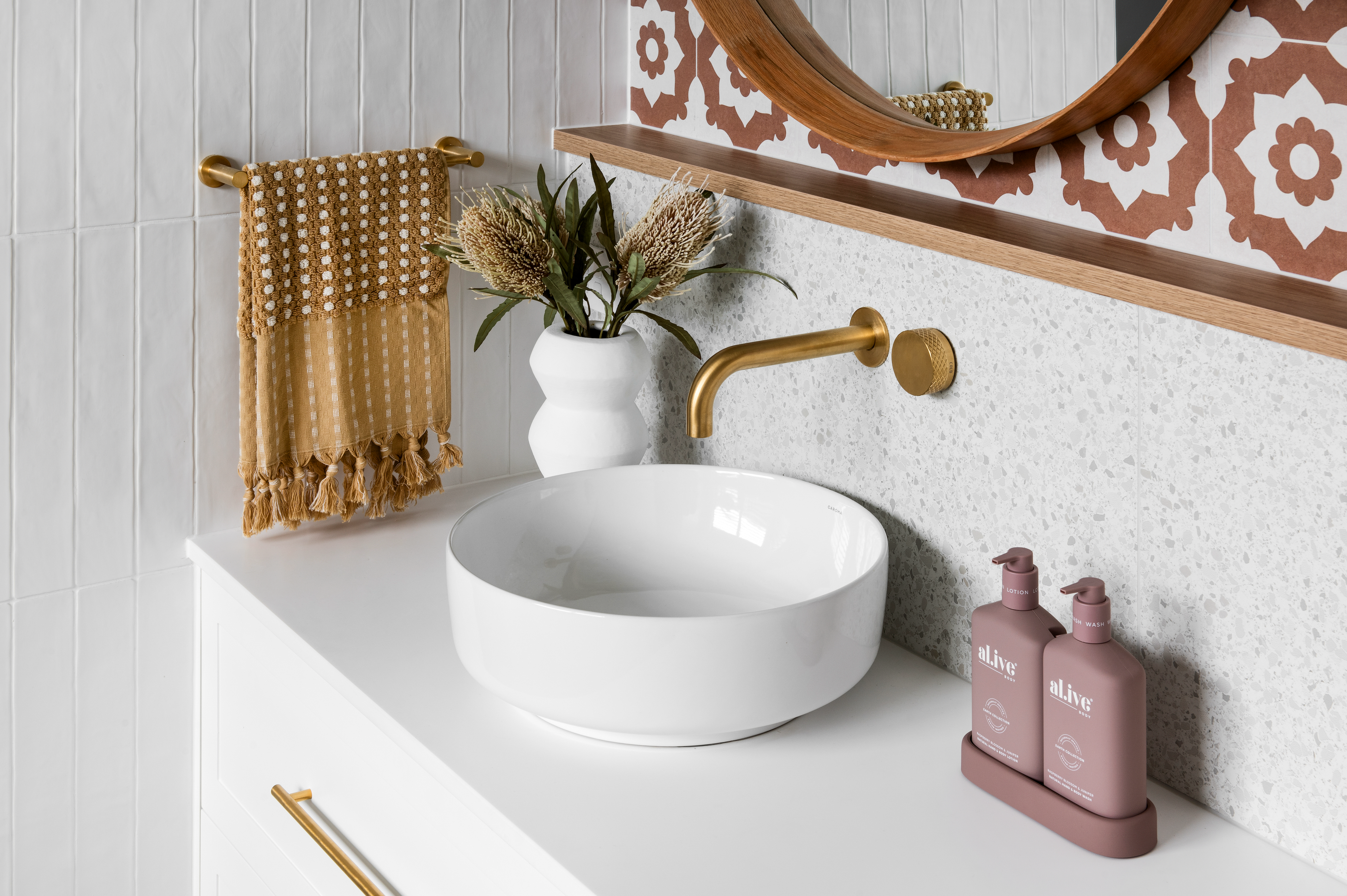 HOW TO CHOOSE THE BEST TILES FOR BATHROOM BLISS
If you don't know your terrazzo from your marble, then you may need some guidance in selecting a harmonious tile combination for your bathroom. Nowadays there is limitless inspiration for designing the bathroom of your dreams. However, the first step of translating the style you love into reality is defining your tiling palette – the foundation of space. Designing two luxurious ensuites in the recent Design Duo Series has inspired us to share our tiling and styling advice with you. Let's get started.
Planning makes perfect
Budgeting is key to any new bathroom build or renovation. It's important to consider both the tile costs and the cost of labour to install the tiles. Note that smaller tiles can be more time consuming to lay, in addition to intricate patterns like herringbone or chevron which require skill (and patience!) to line up correctly. On the flipside, large format tiles may need two tilers on site due to their weight.
Size matters
The great news is that there is no right or wrong when it comes to selecting the size of the tile.
Despite what you usually hear, tile size shouldn't be determined by the size of your bathroom.
Rather the proportions of all the tile selections together and the overall style of the space should be looked at. Having a smaller sized bathroom doesn't mean that you can only opt for smaller size tiles. Instead, large tiles can actually make the space appear larger, particularly in an ensuite. Our top pick is the Marmette Bianco from Beaumont Tiles for adding depth and subtle sophistication - featured in this stunning ensuite from the recent Design Duo Series.
Style and substance
For longevity, steer clear of short-lived trends and aim for a design that you know you'll love for years to come. Look for subtle finishes, different textures and inviting shapes that will add interest to your space. Also consider your desired finish – do you want a glossy look or do you prefer a matte finish? Gloss tiles work great on walls as they reflect light and here's a #mumhack for you - they're extremely easy to wipe clean. Our go-to is the Beaumont Tiles Fire Fingers in a glazed finish – a perfect option for creating visual texture and depth. However, a matte tile can also be a great design element for your bathroom with its more natural style and various stone and cement tones. In particular, matte tiles work well for flooring due to their non-slip properties. An example of this is the Timeless Ceppo Gris from Beaumont Tiles, which was selected for the walls and floor of this ensuite.
Colour play
Using lighter colours will help a smaller space look and feel a lot more spacious. Classic hues such as white or soft grey reflect more light than dark colours, which can create that feeling of space. The best way to add colour is with a feature tile as it can really define the style and mood of the bathroom. We are in love with the patterned Artisan Textured tile from Beaumont Tiles, showcased as a feature wall behind the vanity in this gorgeous ensuite. The terracotta colouring injects a pop of colour and is well framed an otherwise neutral space.