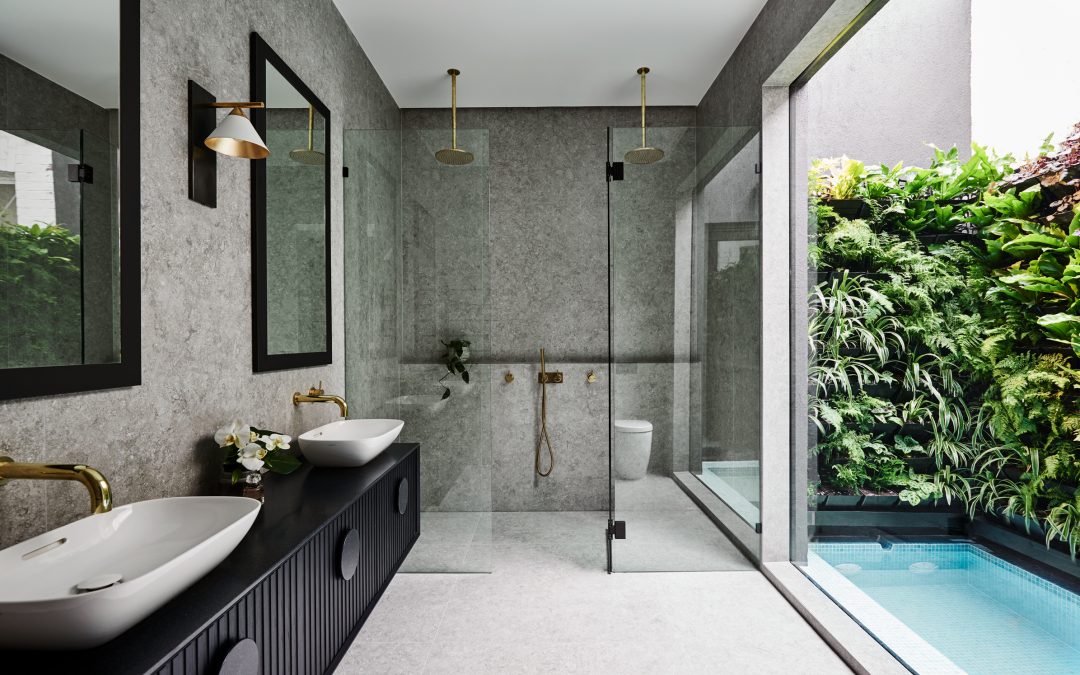 TILING & STYLING; FOUR WAYS TO GIVE YOUR HOME SOME SERIOUS WOW-FACTOR!
If wet areas are the only spaces that come to mind when you think of tiles, think again!
With tile varieties and collections that break the boundaries of imagination, the design and decorating possibilities are endless. Tiles are one of the best options for your floors and walls, as they are hard wearing and durable and aren't scared of life's little misadventures such as pets, parties, scratches spills and children! If you're renovating or building a home, tiles can truly add a wow-factor to more rooms than just the kitchen and bathroom; here's how.
ADD VISUAL COMPLEXITY WITH PATTERNS AND TEXTURE
Hex, granite, modern Italian slate, travertine, subway, penny round, and even timber-look tiles; with so many collections and designs, you'd be mad to settle for a basic white wall tile that is left unaccompanied, and if your idea of risqué is a dark mocha tile, then you'll probably find this tip a tad challenging. Visual complexity adds serious appeal to a home. When you walk in a space and spend a minute or two looking around in complete awe, chances are you have been impressed, at some level, by the visual complexity in that space, which is no doubt the result of the use of patterns or other tactile textures. Intricate tiles can offer this exact same effect, so feel free to break away from the usual go-to tiles, especially if you're designing a space that is destined to remain yours for years to come!
 
SWITCH IT UP WITH GROUT
Make your tiles pop by using a contrasting grout colour. Have you chosen light or white tiles? Why not select a dark grout, in various shades of grey, anthracite, or even black! A contrasting grout also works wonders in turning a rather bland and safe-looking bathroom space into an exciting one. Worried that your monochrome bathroom lacks appeal? Switch it up and feature your main accent colour in your grout. An all-white bathroom with nautical or coastal accents could look dramatically different if the contrasting grout featured its navy accent hue.
TILE VERSATILITY
Did you know that tiles can be used in a range of areas in your home and not restricted to wet areas? With so many great tile options available, the sky really is the limit and a great chance to let your imagination run wild, and really explore mixing different materials. This emerging trend is a visual delight that is becoming quite prominent in interior design, not just in bathrooms, but in kitchens and hallways too! What's best is that you can incorporate it with timber and get the best of both worlds. For our Albert Park project, we have incorporated custom selected Fornace Brioni to clad the fireplace, the stunning hand made tiles from Italy fit the vibe of the living room perfectly. We have also used the Tribeca Old Red Brick tiles to cover the ceiling of our cellar, which adds a sense of drama and grandeur.
BIGGER IS BETTER
300×300 tiles are so last decade! Recent design trends saw us embracing the 600×600, which has now grown to an even larger 800×800! The dramatic effect of these large tiles is not only incredibly appealing by creating a seamless look-and-feel it's also a clever way to create the illusion of space, which we can never have enough of! The large Coverlam Bluestone Gris slab tiles, that come in an amazing 1000 x 1000 and 1000×3000 have been selected for the ensuite bathroom renovation at our Albert Park project. Using tiles of this size allowed us to create a seamless and dramatic appeal that matched the grandeur of our heritage property; a key tip to remember if you are renovating a heritage or period home.
NEED SOME EXPERT HELP?
For ideas and inspiration, as well as the latest collection and expert advice, head into one of the Beaumont Tiles stores near you. Discover your perfect style and get your reno underway with Beaumont's "What's My Style" two-minute quiz which is jam packed with inspired designs and style ideas.