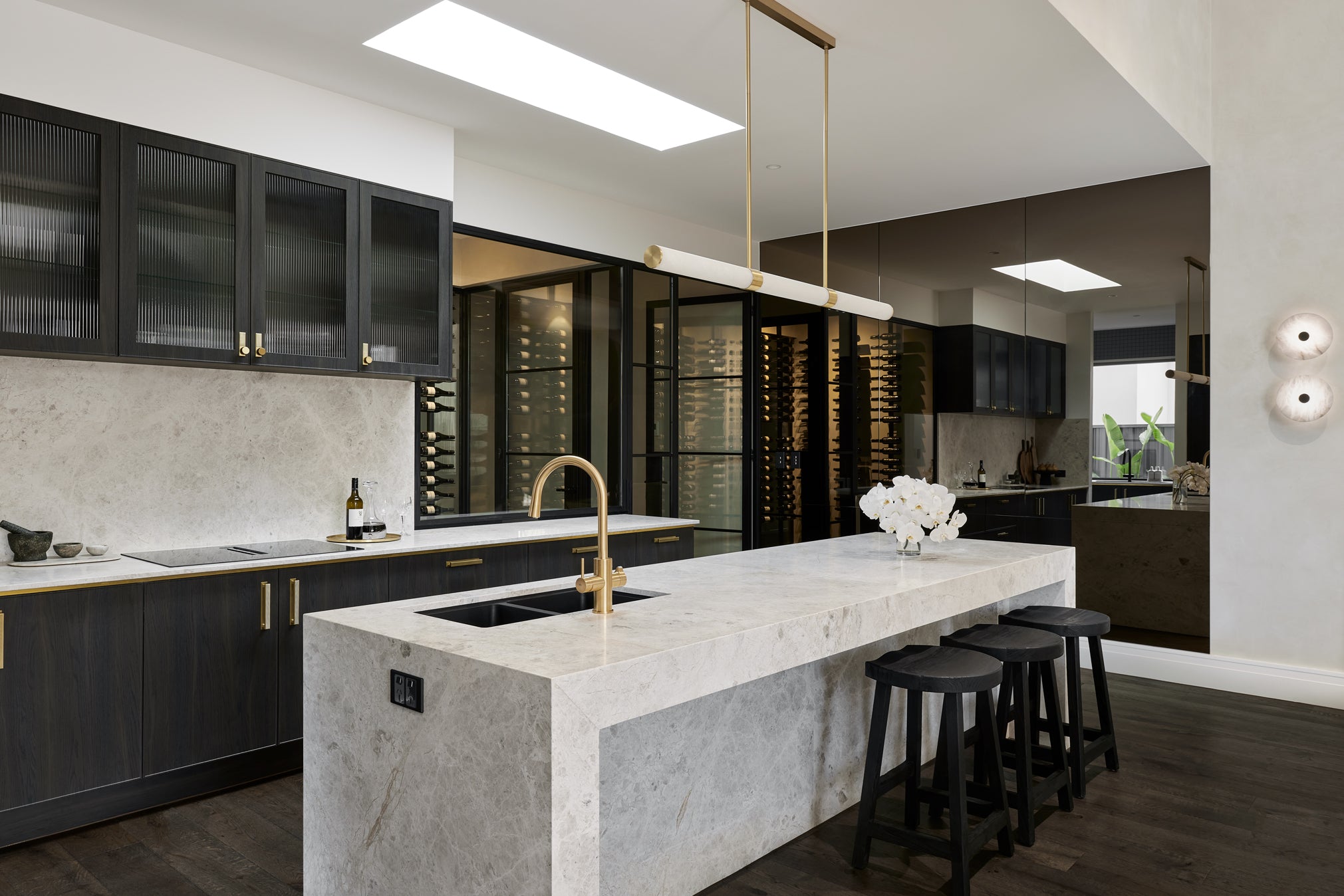 Creating Your Dream Home with Kinsman
Step into our world as we take you on a journey through the creation of our dream homes using the incredible offerings of
Kinsman
Joinery. With their skilled craftsmanship and commitment to excellence,
Kinsman
has been enriching the lives of Australian families for over 30 years. And now, with their innovative solutions and on-trend designs, they have helped us turn our spaces into ones we are proud to live in every day, year after year.
Lysandra's Vision:
In my kitchen and pantry, I wanted to create an ambiance that seamlessly blended modern luxury while keeping a moody ambience. With Kinsman's Camden Bottega Oak Woodmatt cabinetry, the heart of my home came to life. The intricate details, combined with the timeless handles in Matt Brass, added a touch of elegance and sophistication. And with Ninka bins, Hafele Le-Mans corners, and inner drawers, every inch of space was optimised, making cooking and storage a breeze. To add a touch of modernity and style, I incorporated Broadline Glass and other accessories, creating a harmonious blend of functionality and aesthetics.
Moving into my laundry and mudroom, collaborating with
Kinsman
to craft practical storage solutions for a household with two boys was paramount! Here, I choice the Montauk cabinetry profile in a classic White Matt finish, paired with the Bottega Oak for contrast.
One of my most favourite features in my 
laundry
 is the patina brass mesh inserts I selected for my upper cabinetry, adding a touch of luxury and character. 
Moreover, Kinsman's bespoke creation of an arched pet bed for my cat, Bob, remains one of my favourite touches, bringing a sense of charm and comfort - even for my pet!
Entering into my Master Bedroom WIR with Kinsman's black alum frames with acrylic inserts, I wanted to carry through the sense of luxury and warmth throughout the house. Opting for the Estella Oak finish allowed me to establish a serene and moody ambience, the perfect backdrop to my belongings! With accessories like shoe drawers, a make-up station, and custom black glass shelves, my wardrobe really is a sanctuary of style and organisation. And the LED Verti-Strip Lighting integrated in the cabinetry adds that final touch of luxury, making it a pleasure to choose my outfits each day.
Alisa's Vision: 
In my kitchen and pantry, my vision was to blend a coastal and Japandi style to create a relaxed and calming atmosphere. Collaborating with
Kinsman
, I made the choice of the timeless Camden profile for my joinery, harmoniously paired with the Coastal Oak cabinetry colour - a perfect match! Incorporating features like pull-out bins and inner drawer organisers created a space that is flawlessly fused with functionality and style.
In my laundry, I wanted a space that seamlessly combined practicality and elegance.
I opted to continue the Camden profile with the Coastal Oak finish into this area, paired with the polished brass matt knobs from Kinsman. W
ith the invaluable assistance of
Kinsman
, we were also able to incorporate clever storage and organisation solutions such as laundry wire pull-outs. These accessories make it effortless to keep everything in its place, from cleaning supplies to laundry essentials. With
Kinsman
, every aspect of my laundry was carefully considered, ensuring that it not only met my practical needs but also reflected my personal style.
For my master wardrobe, I envisioned a space that exuded elegance and tranquility.
Kinsman
's Fresh White cabinetry provided a pristine canvas for my belongings. I used the Montauk profile in White Matt for my cabinetry, with  brushed dark brass handles that add a touch of glamour. With accessories like trouser pull outs and the LED Verti strip lighting, my wardrobe really has become a haven of organisation and inspiration!
So, whether you're dreaming of a kitchen that is the heart of your home, a laundry and mudroom that brings order to chaos, or a wardrobe that inspires you every day, no matter the choice, the decision is always
Kinsman.