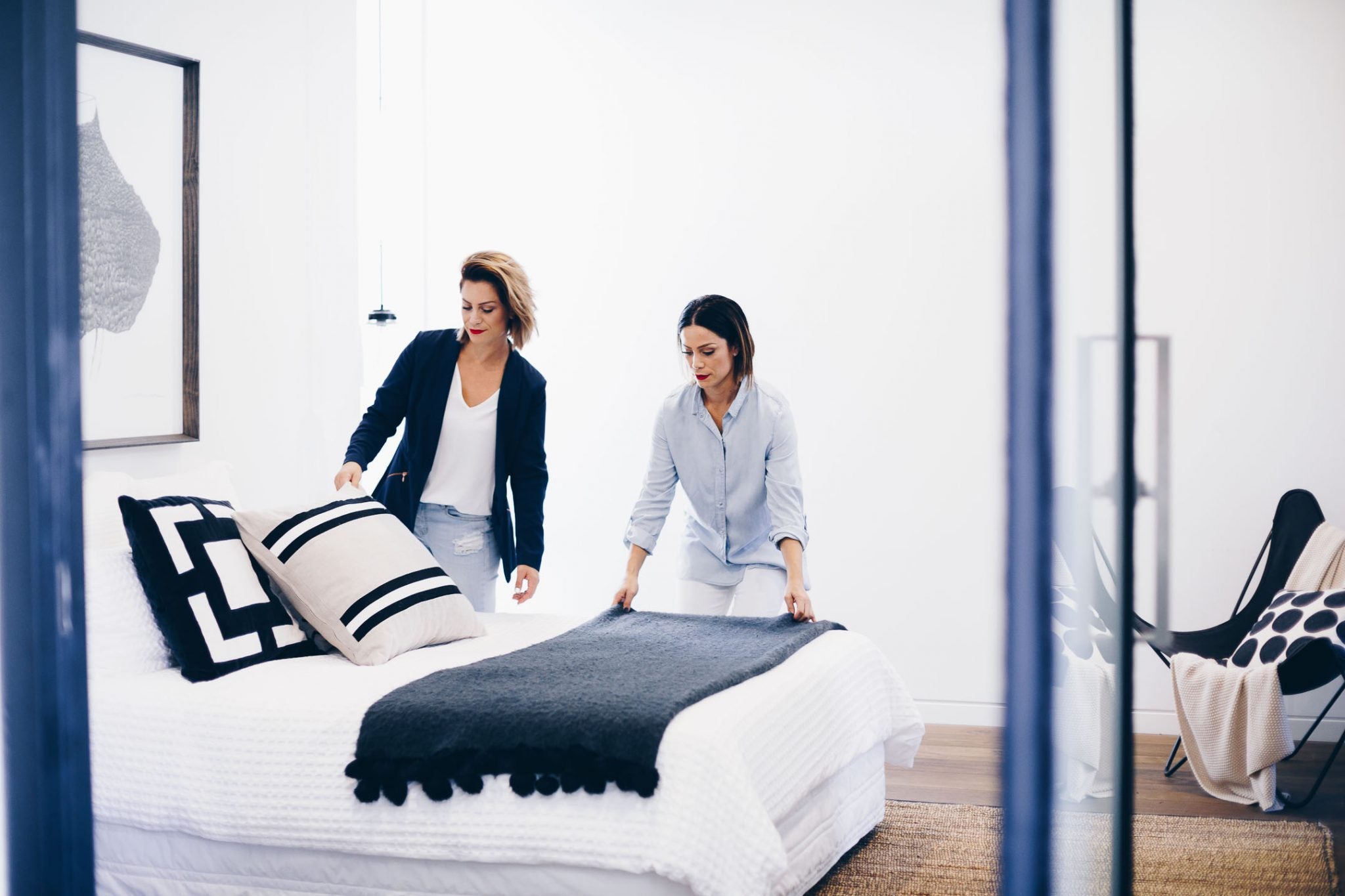 OUR FIVE TIPS FOR SELLING YOUR HOME STRESS-FREE

There are few events in your life that cause more stress than selling your own home.
Preparing your home for sale, trying to clean it before inspection with kids and pets, and achieving your expectations with sale price are some of the biggest stress triggering factors. Just thinking about it makes you want to reach for a G&T and the Cadbury Favourites. As an experienced renovator and designer, I have been around the "block" when it comes to selling real estate. With 2 Block auctions and 4 private sales under my belt (including the recent sale of my family home), I have prepared some helpful tips for minimising the most stressful elements of preparing your home for sale and maximising your sale price.

Bright, Light and White When it is time to put your home on the market, a fresh lick of paint is the most cost-effective and impactful update you can make to your home. White is above and beyond the most universally appealing colour with a myriad of shades to choose from. Some of my favourite shades right now are Dulux Lexicon Quarter for a cool crisp white, or Dulux Natural White for a touch of warmth. Dark feature walls and chipped paint will draw the eye at inspections and can put an otherwise interested buyer off. If your hot pink feature wall is all you've ever dreamed of, take a photo as a keepsake and then get the paint roller out. A home showcasing your personal taste will not get you the same price as a bright, light, and white modern canvas for the next home owner. A white interior also creates the illusion of more space. Winning! The Dream Home Removing personal photos and grandma's crotchet blanket from the sofa will enable potential buyers to envisage your home as their ''Dream Home". Too much personalisation makes home inspections feel invasive when they should allow people to imagine the home as their own. De-clutter the shelves and try and create a blank canvas that will resonate with the largest pool of buyers possible. Note: Little Johnny's hand-made clay vase with green polka dots should not be the focal point on the kitchen island.

Choose the Right Real Estate Agent If there is one point on which people regret after the sale of their property, it is that they didn't select the right Real Estate Agent. I wanted an agent that really knew my area well and wouldn't be handballing the management of the sale to a junior agent after the initial open. I went with Brett McCammon of McCammon Real Estate. He handled the sale of my home with the utmost professionalism, working with me to predict the market and secure the right sale price. The entire process was transparent and his responsiveness and local knowledge really put my mind at ease. The process of selling my home was very and I wouldn't hesitate working with McCammon Real Estate again. Do your research and choose an agent with good word-of-mouth, not just a great website with handpicked testimonials. Getting it wrong can literally cost you thousands of dollars or, worst-case scenario, no sale at all. First Impressions Count! That includes the one that potential buyers have when driving down the street and deciding whether or not your open inspection is one worth stopping for. Curb appeal is serious stuff and freshly mowed lawns, easy care and low maintenance landscaping, and a freshly painted exterior will get the foot traffic through your open inspection. Deciding how much you spend on the exterior of your home should have a direct correlation with your estimated sale price. This goes for any pre-sale updates. Be careful not to go over-board. If the budget is tight then simply touch up any obvious paint-work issues and keep the yard tidy.

Be Realistic Nothing will cause you more stress than unrealistic expectations of what your home should sell for. Listen to the Real Estate Agent who really knows what is happening in the market and keep track of local sales for homes of similar sized blocks and floor plans. This will give you a great indication of the both the bottom end and the top end of your expected sale price. Be prepared for both and hope that by staging your home effectively and putting your best foot forward, you will be pleasantly surprised come auction day. There are so many factors that influence the price you will get for your home. Block size, proximity to desirable schools and public transport, modern facilities, the floor plan, landscaping, and the ever changing real estate market, are all factors that will play a role in determining how many interested buyers there are competing for your property. Presenting your home in the best possible light and working with an experienced and reputable agent should help to minimise the stress of such a significant financial decision. Good luck!