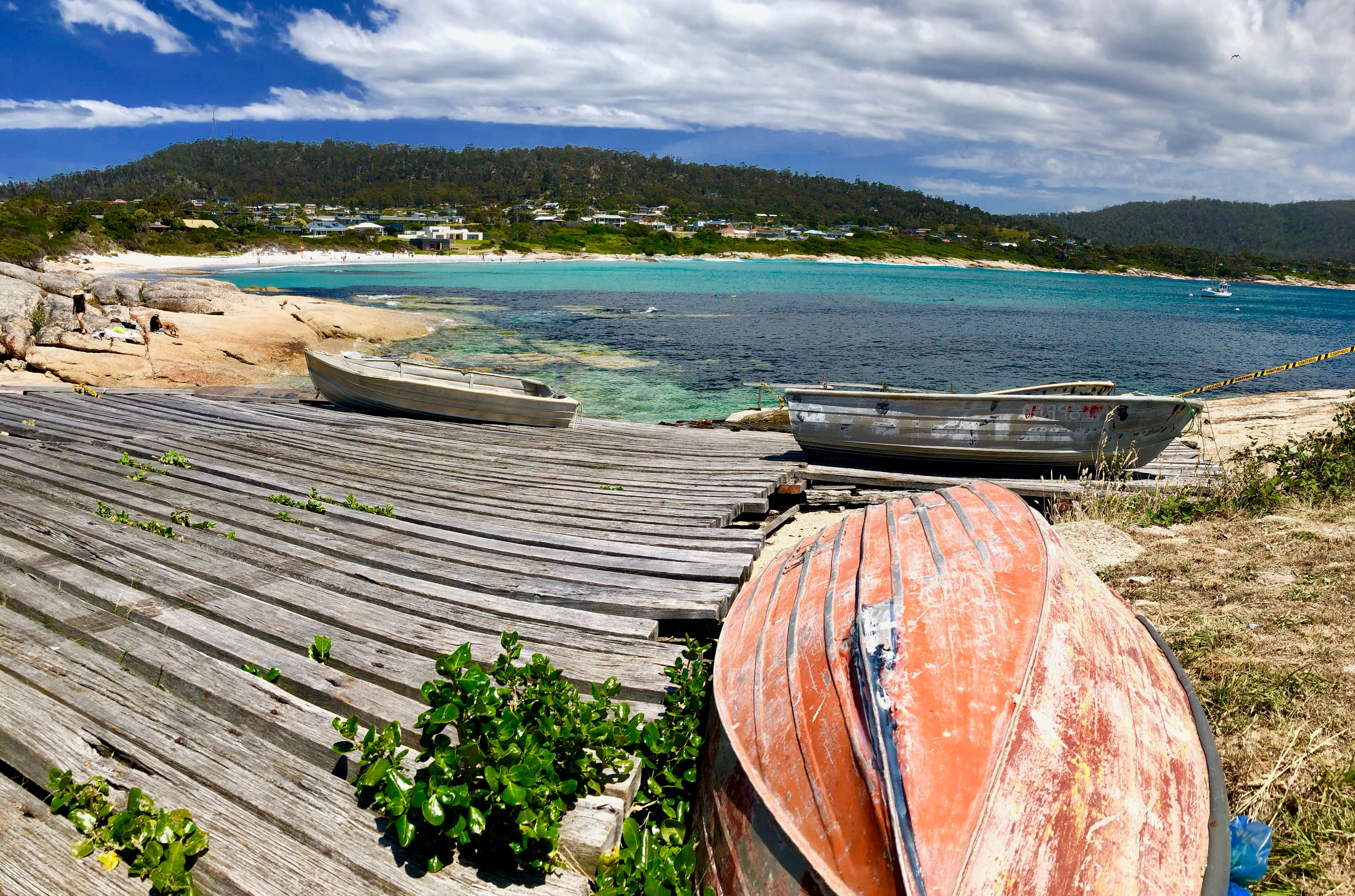 AN UNFORGETTABLE FAMILY ROAD TRIP AROUND TASMANIA
I was inundated with Instagram DM's asking about my trip to Tasmania and any tips that I could give along the way! I know it's been a while since my Tassie adventure, but better late than never right! So here is a quick rundown of the places we stayed and our highlights throughout the trip.
2018 was a massive year for us, with our Albert Park project taking up most of our time and sanity! So what better way to clear our heads and spend some much needed time with our families, than to hit the road (caravan in tow) and explore what beautiful Australia has to offer. We'd heard from so many people that Tasmania ticked a lot of boxes in terms of natural beauty and things to see and do for the whole family! Needless to say, Tassie is where we ended up!

We began our trip by jam packing the caravan full of everything we were going to need for 3 weeks. We hooked the caravan on, and left Adelaide for Melbourne early morning. It roughly took us 10 hours to arrive to Port Melbourne, where we loaded our van onto the Spirit of Tasmania, and then headed straight for the buffet dinner. Umm, YUMMO! I actually thought I was in heaven LOL…Can you believe they served endless pork crackling….say WHAAAT! The ship could have sunk and I would have died the happiest person in the world!!!
This was until Dash, my youngest, decided to projectile vomit everywhere whilst eating dinner (and no, it wasn't the pork crackling as he hadn't even started eating yet)! Anyway, I shoved as much pork crackling into my gob as I could, grabbed Dash and headed straight to our deluxe cabin! After cleaning up all the vomit and a nice warm shower, we all bunkered into our beds and feel straight asleep! And can I just say, the cabin bed was the most comfortable mattress I have EVER slept on. I tried to look for the brand but I couldn't find it.. SORRY!  After taking the overnight Spirit of Tasmania ferry from Melbourne to Devonport, we headed straight to Launceston, booked in at the Caravan Park and headed straight to Cataract Gorge. The Gorge was such a great place to expel some stored up energy and was lots of fun for the kids. Filled with activities such as a chair lift that takes you from one end to the other, a free local swimming pool and walking tracks, it was certainly a great destination to start our holiday! There was definitely something to do for everyone here and it was just SO picturesque I didn't want to leave.

We only stayed in Launceston for one night but I kind of wished we'd stayed longer. The town centre was huge and there were stores and eateries that I wished we'd gone and tried out. Oh well, will just have to stay longer next time. We then drove to St Helens where we met up with Lysandra and her boys. She flew into Hobart from Adelaide and hired a Winnebago, then drove up and met up with us. WOW! Bay of Fires was one of the prettiest beaches we've have ever seen. The colours alone were something else… gorgeous turquoise water, white sandy beaches and orange granite boulders made for a truly spectacular landscape. We had a few days of just relaxing, fishing, snorkelling, swimming and exploring the beautiful coast line. The boys absolutely loved hanging out at the beach….and the mums didn't mind it one little bit either!

After St Helens we road tripped to Coles Bay. Along the way, we stopped off at the quaint little beachside town of Bicheno. This spot is blessed with a beautiful beach as well as other activities such as snorkelling, the blowhole and the local wildlife park. Definitely keep Bicheno in mind if you are wanting to stay at a seaside town that is perfect for the family. Located on the East Coast of Tasmania, Coles Bay is surrounded by a stunning landscape with plenty to see and do. Freycinet National Park is close by with its spectacular coastal scenery that includes the famous Wineglass Bay. Make sure you leave enough time to do some hikes, the views will not disappoint. The mountains that surround Coles Bay are simply breathtaking! We seriously could have been in the Isle of Capri is was that special. If I am being honest, we were all a little disappointed with Caravan Park. It was old, dusty, very tight towing the caravan around and the facilities for the kids were very average. If we had our time again, we would have definitely stayed at Bicheno and then just drove into the Freycinet National Park for the day!

The bonus about having your sister in town, is that you can sneak off for romantic dinner with the husband, which is exactly what I did. For a blissful and very peaceful few hours, we sat, ate delicious food, drank fine wine and starred lovingly into each other eyes. Oh how those moments are as rare as your chances of winning the lotto.
The next stop after Coles Bay was Port Arthur. A MUST SEE!!! Port Arthur is such an interesting and fascinating place. It's rich in history, and one of Australia's most important heritage destinations. We spent a day exploring the historical site and also took a boat trip for the Isle of the Dead Cemetery Tour, the kids loved there time here. The caravan park we stayed at while in Port Arthur had access to the most amazing bit of coast line. We snorkelled and just hung out here for most of our stay. Port Arthur is a small town and doesn't have a great deal to offer. Aside from the historic site of course. We didn't mind though, as the kids had a great time at the Caravan Park and beach and it really was just a very peaceful place to stay. Port Arthur is where Lysandra and the boys left us! Much to the disappointment of Nate. Now he'd have to hang with his annoying little brother for the rest of the time. It was at this point of the trip that the brotherly whinging and arguing began! And let you tell me, it didn't stop for the remainder of our trip.
After Port Arthur we ventured to Huonville and stayed at the Huon Valley Caravan Park (without a doubt the best place we stayed accommodation wise). The caravan park is a massive property surrounded by beautiful hills with a river running through it. The park had great facilities and perfect for the family, we could have easily stayed here longer than the 4 days that we did! This place was a definite highlight for us! A MUST place to go and stay! And make sure you bring your fishing rods!

The next stop was Hobart, where we explored the city and MONA as well as the Salamanca Markets. The Museum of Old and New Art was a highlight for us, and the boys surprisingly thoroughly enjoyed their time here too. After the first part of the trip surrounded by nature, it was nice to explore the city and immerse ourselves in the Hobart culture. From here we made our way to Strahan. We booked ourselves onto the Steam Train day ride through some of the most stunning countryside I've ever seen. Without doubt this is MUST do! They had a tour guide speaking about the history of the area and about the gold mining days. WOW!!! Some of the things they accomplished without today's technology and machinery are just mind blowing! The following day with went on the Gordon River Cruise. Given there really isn't much to do in Strahan, I'd recommend going on this day cruise. Again, you learn a lot about the history of the place and we stopped off at some pretty interesting places along the way. We bought the buffet lunch package which was pretty tasty actually! All in all, a great spot to stop for a short time. The area is full of stories from the days of convicts and pioneers but you just wouldn't want to stay longer than a few days.

From here, we began slowly making our way towards Devonport to catch the ferry home. Along the way we stopped off at a little town called Sheffield. Sheffield is nestled in the foothills and is the gateway to Cradle Mountain. Dove Lake is located at the foot of Cradle Mountain, and is circled by a 6km track that offers one of Tasmania's best walks. Given we had our 3 and 7 yr olds, the Dove Lake walk was perfect for us. Nate, the little champion, made it the whole way around which took us around 1hr 45 mins. Dash on the other hand took the easy way out and feel asleep in the baby carrier for the entire way. Needless to say, the husband was a bit sweaty and sore upon our return. It can get really cold in the mountains so just make sure you take lots of warm clothing with you. Whilst in Sheffield we stopped in at a place called Tasmazia. We were lucky enough to speak with the elderly gentlemen who owned and still to this day, takes care of the maze park. I just love speaking to old people and hearing about all of their stories. He was such an interesting and hardworking man. Tasmazia includes 8 mazes, featuring The Great Maze as well as The Village of Lower Crackpot, a whimsical model village built to 1/5th scale, Embassy Gardens, a self-serve Cafeteria, Gift Shop, Lavender Farm, and ever present views of majestic Mount Roland. A MUST SEE!!!

Our last stop before heading home back on the ferry, was Devonport. Devonport was the perfect end to our Tasmanian holiday with its array of shops and great beaches. It certainly is the definition of a quintessential beach side town. We could have quite easily stayed a few more days here that's for sure. We had such a great time in Tasmania and will definitely venture back. The natural beauty of Tasmania and the unlimited places to explore makes it the perfect place to visit with the family!