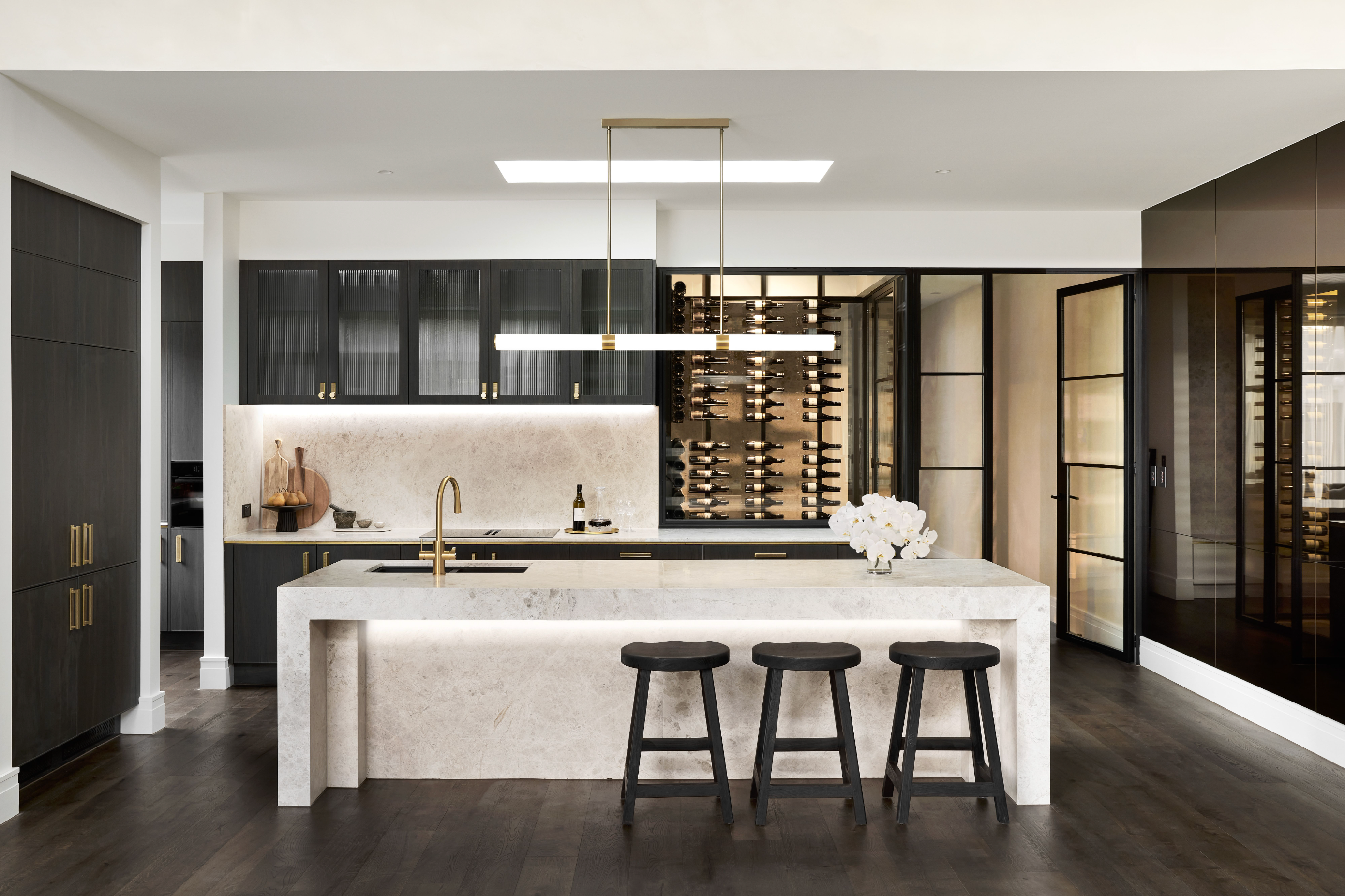 Shining bright with Beacon Lighting
We know that lighting can make or break the ambiance of any space, and we're thrilled to share our individual takes on how lighting played a crucial role in our projects. Being lucky enough to use so many gorgeous light and electrical fixtures from Beacon Lighting, we can't wait to share our design choices with you!
Alisa's Lighting Approach:
When it came to lighting in my space, I focused on creating a warm and inviting atmosphere. I wanted my home to exude cosiness and charm, especially in the living room and kitchen areas. To achieve this, I turned to some fantastic Beacon Lighting fixtures.
In my kitchen, I opted to use the Made By Mayfair Osten Wall Lights with the Alabaster Shade and Brass detail. These lights beautifully blend art and illumination. The handcrafted Spanish alabaster stones seem to float on the wall, creating a stunning decorative effect, which is perfect in my Japandi style home.
What makes this light even more extraordinary is the innovative colour-switching technology via the wall switch. It lets you transform the mood and ambiance by adjusting the colour temperature and playing with the stone's hues, enhancing the already stunning alabaster.
One of my other favourite light fixtures in my home is the stunning Herman 1 Light Pendants in Natural that I installed in Dash's room. These pendants offer exceptional versatility and prove to be an excellent match for the coastal japandi style I've embraced. I particularly appreciate how the lighting creates a charming ambience by casting a captivating pattern on the walls.
Lysandra's Lighting Approach:
In contrast, I took a slightly different approach in my space. While Alisa's aim was to create warmth and charm, I wanted to infuse a touch of modern elegance into my home, while keeping my moody ambience.
In my kitchen, I used this absolutely stunning Made by Mayfair Luella 1500mm Pendant in Brass with Spanish Alabaster Shade. Despite sharing similar components with Alisa's light fixtures, this pendant style exudes an enduring elegance, gracefully softened by the warm alabaster glow. It effortlessly establishes the contemporary, moody ambiance I aimed for. Undoubtedly, it's my absolute favourite light fixture in my home, and it never fails to steal the spotlight!
I also adore the versatility of the alabaster shades, which can seamlessly adapt to various settings. In my master bedroom, I've incorporated the Made by Mayfair Lucent 160mm Pendant in brass with alabaster glass. What truly captivates me is is the alabaster shade which plays with the depth of light and shadow, unlike any other natural stone. Not to mention, each piece is hand finished, so each any every pendant within the Lucent collection are unique. Creating a moody and luxurious ambiance with these lights was effortlessly achieved, all thanks to Beacon Lighting!
 Alisa and I both managed to craft entirely distinct aesthetics in our respective homes, and we really do believe that the right lighting can transform any space.
We're incredibly grateful for Beacon Lighting's range of products that allowed us to achieve our lighting goals, and we hope this blog provides some insight into our design process. Lighting isn't just about illuminating a room; it's about creating an atmosphere that reflects your personality and style!