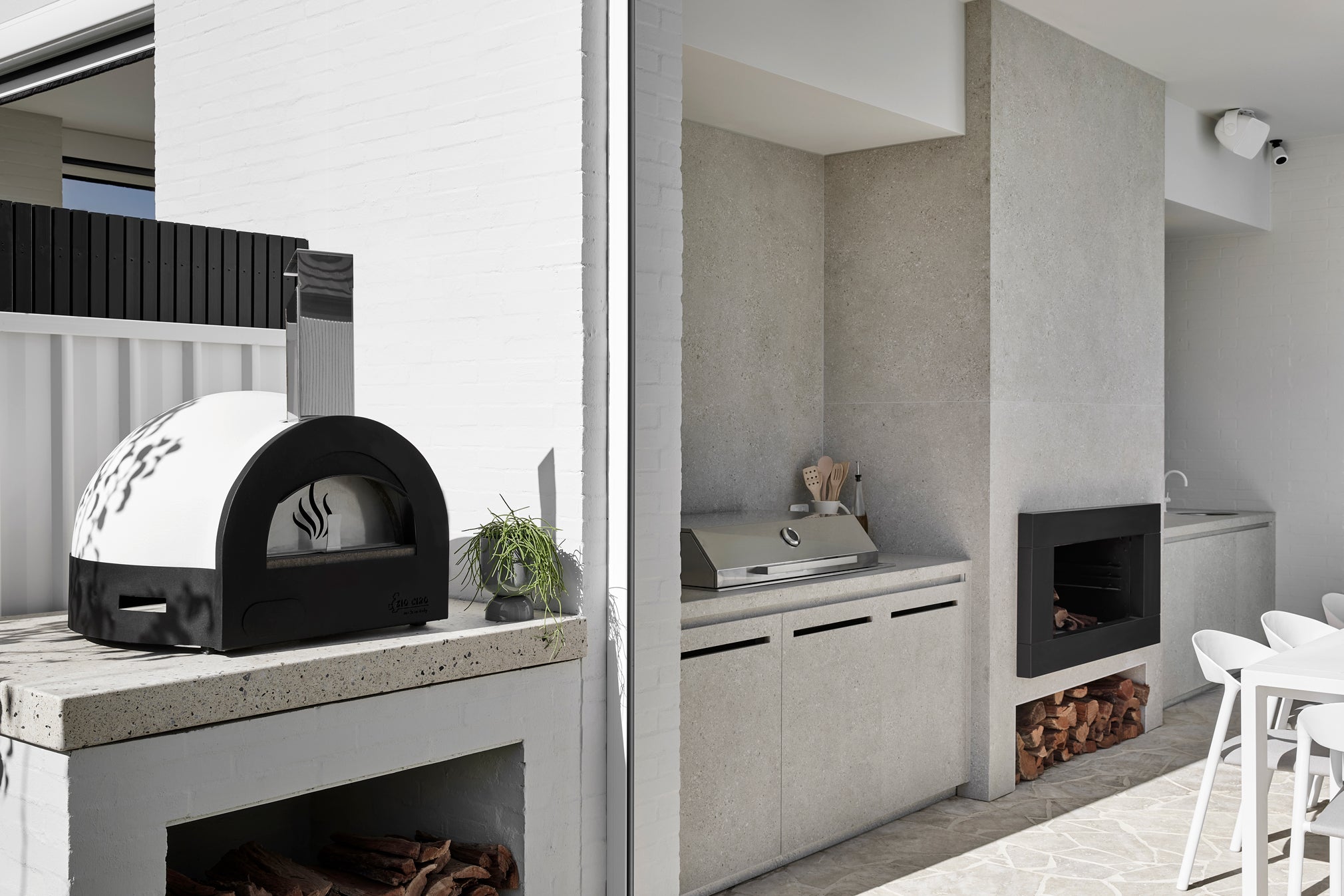 Sustainable Stone: Timeless Beauty and Durability with Neolith
As we embarked on the Design Duo Twin Off series, we knew that selecting the right materials would be crucial to creating spaces that exuded charm, depth, and longevity. That's when we discovered
Neolith
, the world's leading brand in Sintered Stone.
Timeless Beauty with Neolith Stone:
Neolith stone is an alternative to natural stone that give you the timeless beauty to your home, while being gentle on the earth. So when it came to selecting beautiful finishes and materials for our very own homes, we just couldn't go past Neolith.
Alisa's Picks:
I just couldn't go past the simply stunning 
Shilin Stone
 featured in my outdoor alfresco area.
Its light background exudes a sense of airy elegance, while the fine granular detailing adds a touch of sophistication and texture, making it a true focal point in the space.
Lysandra's Picks:
I decided to create a bespoke custom bedhead from Neolith's
Calacatta Luxe Stone
 in my Master Bedroom, and can I just say - I am in love! The colours of this stone - the golden ochre, grey and white tones truly create a stunning visual impact. And who could forget the
Himalaya Crystal Stone
adorning the walls in my outdoor alfresco, with its veins creating a sublime and elegant contrast.
Durability for Every Application:
Neolith
stone surfaces are not only visually striking but also incredibly durable and versatile. They can be used in various areas of your home, from kitchens to bathrooms, floors to outdoor spaces, and even custom furniture. In our Design Duo Twin Off series, we utilised the
Shilin Stone
for Alisa's fire wall, backsplash, joinery, benchtop, doors, and skirting in her outdoor alfresco area. Its durability and resistance to heat, scratches, stains, and UV radiation make it a perfect choice for areas exposed to the elements. Meanwhile, the
Calacatta Luxe Stone
added a touch of luxury to Lysandra's master bedroom, offering both durability and exquisite aesthetics.
Longevity and Minimal Upkeep:
When it comes to investing in surfaces for our homes, longevity is key.
Neolith
surfaces are designed to stand the test of time, requiring minimal upkeep while maintaining their brilliance for decades. The Neolith stone surfaces used in our homes have proven to be not only beautiful but also highly durable. They can withstand the demands of everyday life, ensuring that your spaces continue to look and perform brilliantly year after year.
Sustainability at the Core:
At
Neolith
, environmental responsibility is at the heart of everything they do. From design and production to installation, the brand is passionately committed to sustainable practices. By choosing Neolith, we were able to prioritise sustainability without compromising on quality or aesthetics. Neolith's commitment to the environment gave us peace of mind, knowing that we were making a responsible choice for our homes and the planet.
Neolith
stone surfaces have truly transformed our homes, providing us with the perfect combination of timeless beauty, durability, and sustainability. With Neolith, you can be confident in choosing a high-quality, robust material that will stand the test of time while leaving a positive impact on the environment. Explore the world of Neolith and discover the possibilities it holds for your own design journey. Visit
www.neolith.com
for more information.