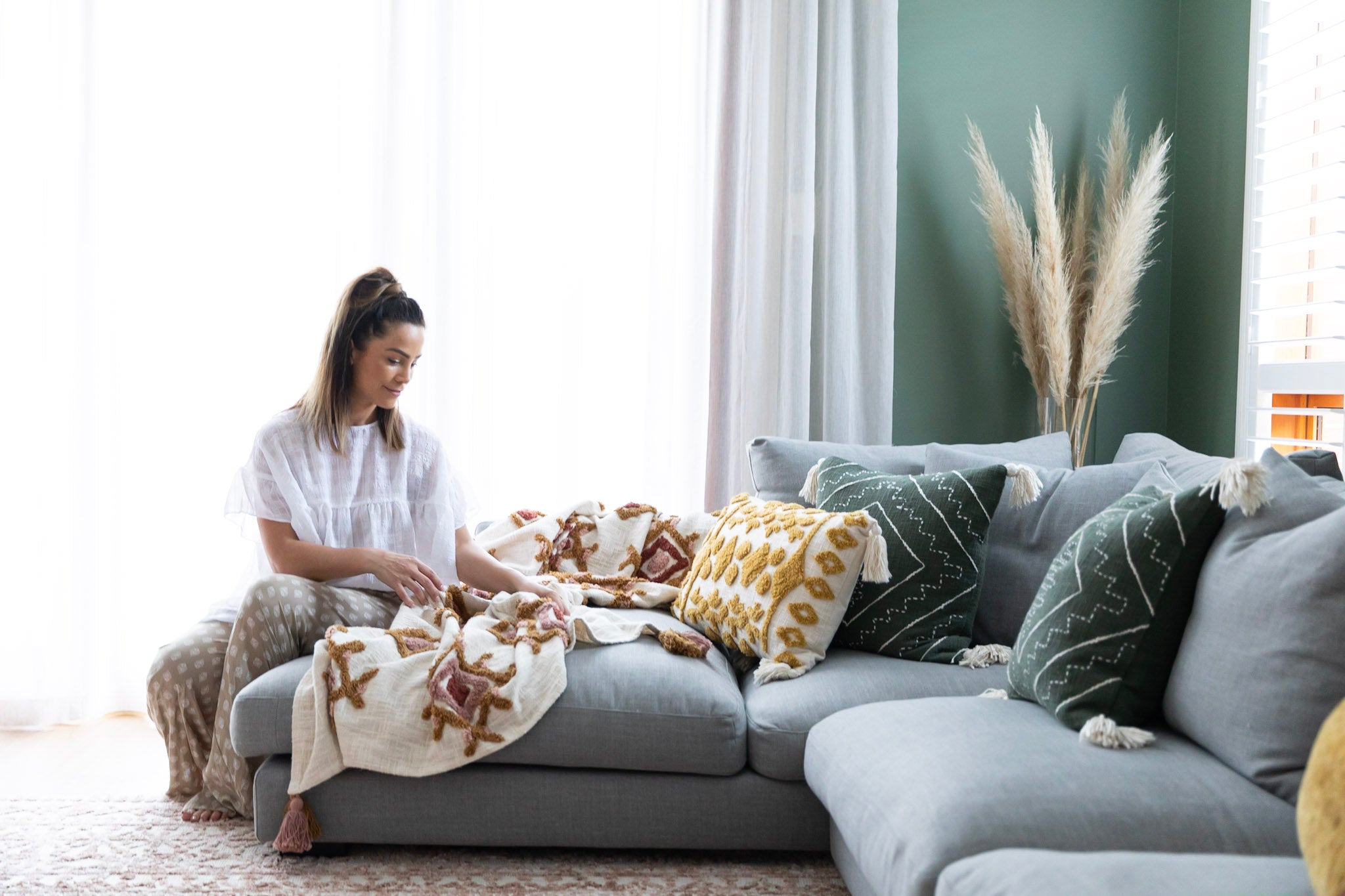 TRANSFORMING YOUR HOME INTO A HAVEN
Never before has one's home become so important than in the year of self-isolation and quarantine. For most Australians this year, and for millions around the world, we have been forced to stare at the four walls around us and consider the way that space makes us feel. In response to an increasing need for work and learning from home, I (Alisa) felt the need for a few simple cosmetic changes to my home. I transformed my lounge room into a space that had a greater connection to my adjacent outdoor area, and better accommodated a family of four forced to all occupy the same space for increased periods of time.
Let there be light!
Window dressings can make or break a room. Heavy, dark and low hung curtains can make a space feel small, and changing your curtain height and colour can be a cost effective way to transform a room. The Distall curtains I chose, in Oyster from Rundle Blinds and Curtains, strike the perfect balance between privacy and the all-important natural light. A sheer textural curtain creates a serene feeling in a room and when hung from floor to ceiling, maximise the ceiling height. If your window dressings aren't allowing natural light to flood the room and make your room feel small, then it's time for an update.
A modern palette
Nothing says 'refresh' like a contemporary and on-trend feature wall. However, the bolder you go, the more often you will need to update it to avoid the space feeling dated. I opted for a cool and calming eucalypt green for the balance that nature inspired colours bring to the space and the longevity benefits of a peaceful palette. To compliment the fresh wall colour, I have chosen the Long Beach Left Hand Corner Chaise in Bellevue Cement Fabric with both colours brought together by the soft furnishings. 
Comfort is key
Soft furnishings are the most easy and affordable way to update your home. Throws, cushions and floor rugs are the essential finishing touches that bring comfort and personal style to a living room. I love the space defining Evoke white rug (medium) from Lounge Lovers that I used under my dining table. Not only does it create visual interest in the room, but is always a great way to create zoning in an open plan area, along with the comfort that such a luxe rug brings underfoot. Proportion is everything when it comes to zoning and designing a successful space so ensure you take the time to work out which size suits your room the best. If in doubt, we always say go for the larger size.
Change is as good as a holiday
And no change is greater than a furniture update. The Lounge Lovers Bronte dining table and Ark dining chairs successfully modernised the space and created a multi-use zone for work, dining and play. The contrast of timber and white kept the space feeling bright and light whilst complimenting the nature inspired colour palette to perfection. Quality yet affordable furniture is essential for young families working within a budget.
 Creating a family friendly space that was calming, cosy and energising was simple with some soft furnishing, colour and furniture updates. Our home has become a true sanctuary from the world this year and with some careful planning, it can happily accommodate the needs of a busy family of four.