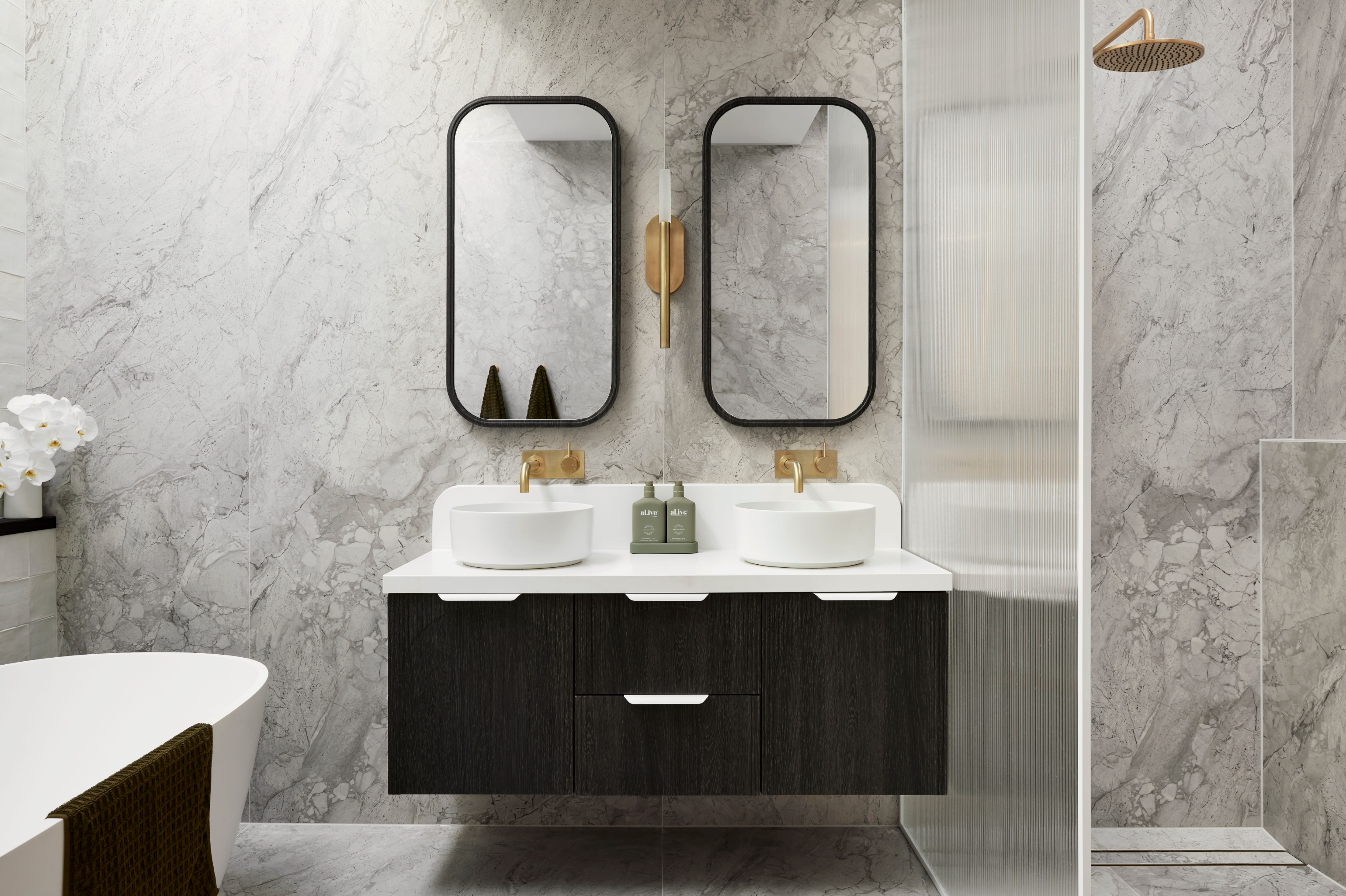 Why we love slab tiles by Beaumont Tiles
As we embarked on our Design Duo Twin Off series, one thing became clear: we needed a tile that would make a statement and set the stage for our stunning bathroom designs. That's when we discovered the incredible world of slab tiles by
Beaumont Tiles
, and we instantly fell in love.
Beaumont Tiles
has been a trusted name in the industry for over 60 years, specialising in tiles, bathroom ware, tools, and accessories. Their commitment to quality and innovation is unmatched, and it's evident in their wide range of products that cater to every style and design preference.
Grand Portobello: Timeless beauty and sophistication
One of the standout slab tile products that caught our attention was the
Grand Portobello
. With its bright and white appearance, this tile allows marble lovers to transcend trends and redefine marble look projects with ease and sophistication. The Portobello comes in two finishes, silk and polished, to accommodate different types of natural lighting and create a timeless beauty that exudes opulence.
What sets the
Grand Portobello
apart is its voluminous proportions of 1000 x 3000, combined with its classic veining and mottling effects. This makes it perfect for wet area walls, benchtops, and splashback installations, adding a touch of elegance to any space. The coloured bodied porcelain of the Portobello ensures that wear and tear are less visible, making it a hard-wearing yet soft-touch tile that can withstand the demands of the Australian lifestyle.
Spacious Volkas Grey: Luxurious elegance 
But our love for slab tiles doesn't stop at the Grand Portobello. In fact, we also had the pleasure of incorporating the stunning
Spacious Volkas Grey
slab tile into our designs. This exquisite tile boasts a beautiful grey tonal pattern that exudes luxury and adds a touch of sophistication to any space.
The
Spacious Volkas Grey
slab tile perfectly captured the aesthetic we were aiming for in Lysandra's Main Bathroom. Its unique pattern and colour variation created a captivating visual effect that instantly elevated the overall design. With its generous size and sleek profile, it seamlessly expanded the perceived space, making the bathroom feel more open and inviting.
Experience the practicalities of slab tiles
What makes slab tiles truly remarkable are the numerous benefits they offer over traditional smaller tiles. First, the reduction in grout lines means less maintenance and easier cleaning, saving you time and effort. Additionally, the large size of the tiles visually expands the room, creating a sense of openness and spaciousness. And if you're looking to save money and avoid the mess of removing existing floor tiles, the thin profile of slab tiles often allows for direct installation over the existing surface.
Slab tiles also offer greater durability and longevity, making them a wise investment for your home. They can be used on multiple surfaces, from exteriors to interiors, floors to walls, and even fixtures, providing a cohesive and harmonious look throughout your space.
Transform your own space with Beaumont Tiles
While we're big advocates for DIY projects, we must mention that installing slab tiles requires specific handling techniques and recommended adhesives due to their size. To ensure a job well done, it's best to rely on a tiler who specialises in working with slab tiles. Fortunately,
Beaumont Tiles
has a list of recommended tilers who can help you bring your slab tile dreams to life.
If you're considering a renovation or building project, we highly recommend exploring the world of slab tiles by
Beaumont Tiles
. Their vast range of options, including the
Spacious Volkas Grey
and the
Grand Portobello
, will undoubtedly ignite your creativity and allow you to transform your space into something truly extraordinary. With
Beaumont Tiles
, you can trust that your dream design will become a reality, backed by exceptional quality, style, and support.